The KIM-1. my first computer. Still have it, and it is still operational.
But I fear to use it for experiments and daily use, it is too valuable for me.
So I invested in KIM-1 clones and replica's:
– Micro-KIM by Vince Briel
– KIM Clone by Bob Applegate, Corsham Technologies
– MOS KIM-1 Reproduction by Dave Williams
– KIM Uno by Oscar Vermeulen
Each has it advantages. And not all are still for sale.
Corsham is till in business and has an awful KIM Clone, with motherboard, I/O card, experimenters board and SD file system. A real enhanced KIM-1 on real KIM-1 hardware.
The KIM Uno is also available, affordable,now an emulator on an Arduino, soon on ESP32. Fun to have a KIM-1 look and feel.
All are documented on the KIM-1 replica's and clone page.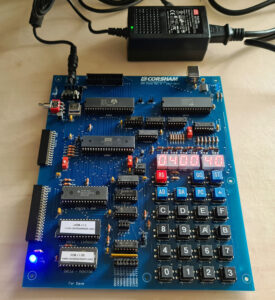 KIM replica's and clones