Jolt was designed and developed by Ray Holt, Founder and Executive Vice-President of Microcomputer Associates. Holt went on to design the SYM-1 single-board computer, a KIM-1 clone. Manny Lemas was the co-founder of Microcomputer Associates, Inc. Ray Holt was the hardware side and he was the software side of the business. He wrote the DEMON (Debugger/Monitor) software for the JOLT. This software was actually developed for MOS Technology for use in the TIM chip and the KIM-1 single board computer. M.A.I. was granted rights to its own version of the software for use in the JOLT, so they used the TIM 6530-004 IC!
The Jolt microcomputer was released in 1975 by Microcomputer Associates. The company was founded by Ray Holt and Manny Lemas. The company was later acquired by Synertek, a second source manufacturer of the 6502, and renamed Synertek Systems. Synertek went on to produce the popular SYM-1 microcomputer. Ray Holt's business partner was Hispanic and he used to call Ray "Jolt" which is the reverse-anglicized spelling of the word HOLT if written in Spanish. i.e "Jolt" in Spanish is pronounced "holt". There were about 5000 JOLT units produced, first designed in 1974, far pre-dating the Apple I.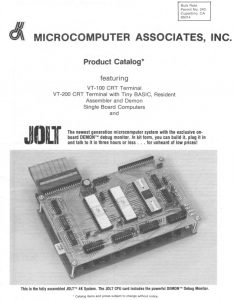 See the Microcomputer Associates Catalog in PDF format here
Hear it from Ray Holt from an interview on YouTube:

Audio recording of VCF sessions:
Manny Lemas VCF 2 on SYM-1
Ray Holt on the F14 "Tomcat" CADC microprocessor. The World's first microprocessor and the first time to discuss it in public
A newsletter was published, this one in PDF format is from 1977 and contains some Tiny Basic programs for JOLT and Super Jolt.
Synertek acquired Microcomputer Associates, Incorporated, consisting of engineers Manny Lemas and Ray Holt, after which it was renamed Synertek Systems, Inc. and established as a subsidiary. In 1978, Synertek Systems released a 6502-based single board computer/evaluation kit called the SYM-1, a derivative of MOS Technology/Commodore Semiconductor Group's KIM-1. The Super Jolt was still sold by Synertek in 1985 (see the Super Jolt page).
Gallery
Images supplied by Ray Holt.