This article is written by Jeff M. Nay, about his experiments to restore a KIM-1 to working order, testing the 6530-002 RRIOT with his own KIM-1.
The challenge was to address the second 6530-002 in this setup at another address then the onboard 6530-002 RRIOT.
The experiment was a success, the 6530-002 is indeed in a bad state, the ROM is corrupt and it had to be replaced.
The KIM-1, from a friend, was in a bad state. The repair was a success also. He was able to get this old KIM-1 working again, after only having to replace, the 6502 CPU, the 6530-002 RRIOT Chip with a Corsham 6530 Replacement board, all 8 Memory Chips and the U17 7406 inverter.
Read more in the group: KIM-1 – Google Groups
Breadboard Test for 6530-002
Attach Breadboard to working KIM-1, using Expansion Port and using K4 and K2 from Application Port (Corsham Application Board)
NOTE: Turn all SW1 switches on CORSHAM Board Off (Or data will repeat at K1,K2,K3,K4)
I started by wiring the data lines on the 6530 to the expansion board pins 15-8.
Then the address lines to pins A-L.
Now it is just a matter of wiring the control lines correctly.
I have phase 2, pin 3 of the 6530 going to pin U of the Expansion board (Yellow)
I have pin 4 (RSO) of the 6530 going to (K4) of my Corsham Application Board – (Don't forget pull up resistor) (Blue)
I have RES pin 16 of the 6530 wired to pin 7 (RST) of the Expansion board
I have pin 18, (CS1) on the 6530. Going to (K2) of my Corsham Application Board – (Don't forget pull up resistor) (White)
I have Power going to pin 20 and Gnd going to pin 1
You should be able to read ROM at $1000
Looking below at the data sheet, where the address of the I/O and RAM are determined by A9-A6. This means it is not hard set for $1700 or $1740.
K5 ($1400) + A9-A6 determines where the IO of both 6530s will start and end.
I ended up using K2, which starts at $0800 + A9-A6 means my I/O registers should start at $0B40 for the 6530-002 or $0B00 for the 6530-003
I also use K4 for the ROM section of the 6530-002 which starts the ROM section at $1000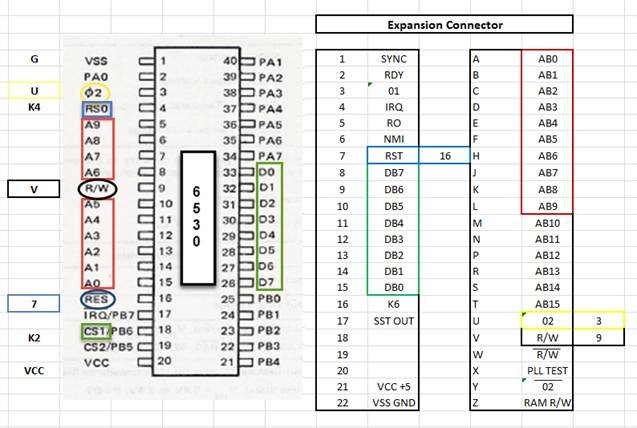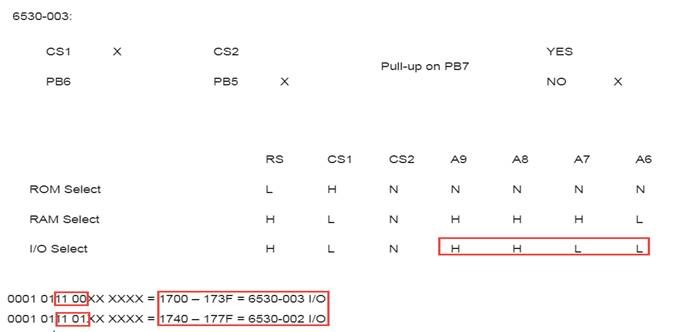 ---
Onboard 6530s

6530-003

A9+A8 = 1100000000 = 300H to 1100111111 = 33FH

(K5) $1400+$300 Start the IO for 6530-003 at $1700.

(K5) $1400+$33F End the IO for 6530-003 at $173F

6530-002

A9+A8+A6 =1101000000=340H to 1101111111=37FH

(K5) $1400+$340 Start the IO for 6530-002 at $1740

(k5) $1400+$37F End the IO for 6530-002 at $177F

Bread Board 6530-002

6530-003

A9+A8=1100000000 =300H to 1100111111=33FH

(K2) $0800+$300 Start the IO for 6530-003 at $0B00.

(K2) $1400+$33F End the IO for 6530-003 at $0B3F

6530-002

A9+A8+A6=1101000000=340H to 1101111111=37FH

(K2) $1400+$340 Start the IO for 6530-002 at $0B40

(K2) $1400+$37F End the IO for 6530-002 at $0B7F
---
This is the ROM of 6530-002 breadboard being accessed at $1000 (85)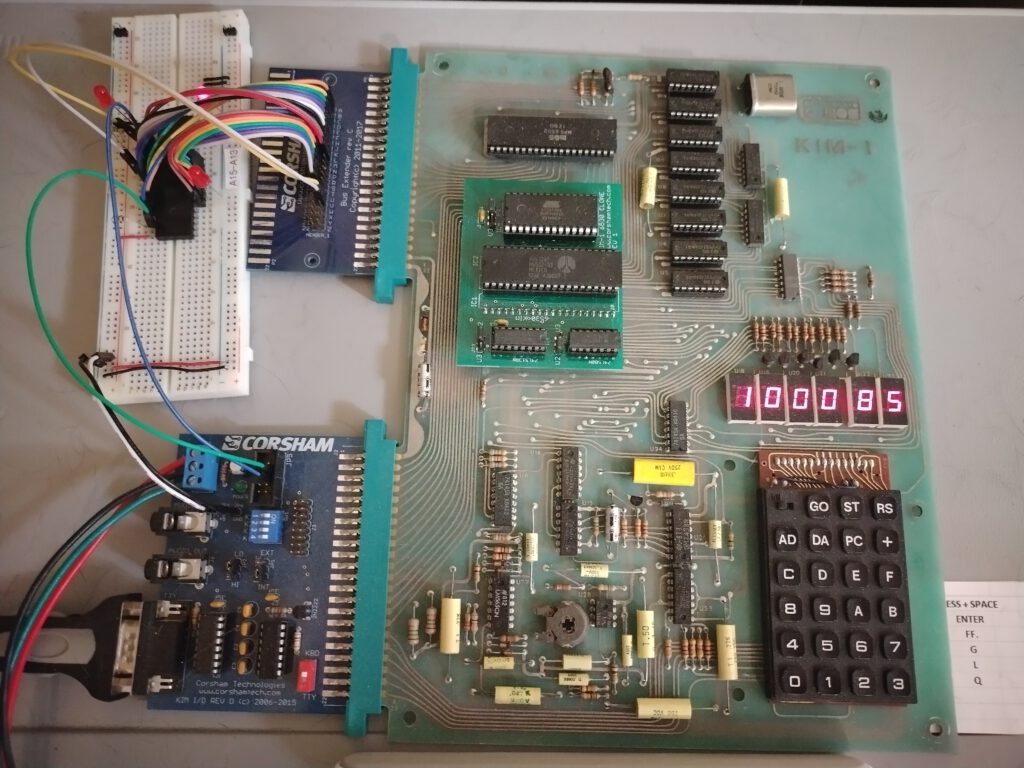 The now working KIM-1: