Cosmicos is the name for a SBC around the RCA 1802 CPU. Cosmicos stands for COSMAC MINI COMPUTERSYSTEM.
Published in the dutch magazine Radio Bulletin, developed by the editor (later editor in chief) Bob Stuurman.
The system is loosely based on the Cosmac ELF design. Compatibility with the ELF was later improved in the cassette routine loader, Tom Pitmann's Tiny Basic and such.
Have a look at the Spare Time Gizmo Cosmac ELF 2000 for a kit to build an ELF board now!
The goal of the development of the Cosmicos system was a simple microcomputer, selfbuilt and fit for expansion and experiments.
In the picture above you see the Cosmicos with many expansions developed by Bob, like a hex keyboard and 8 LED displays, cassette interface, RAM and ROM cards. The basic system is the board itself, without software in ROM, simple digits and two seven segment LED displays.
The design and well written articles and the availability of the PCB's made the Cosmicos a succes, many were built and a user club became active around the system.
Articles on the Cosmicos appeared from september 1979 to april 1984. The series ended with the design of a floppy disk interface, combined with 48K RAM and a videodisplay. From simple microprocessor to complete computer system, truly a story worth to be told.
The book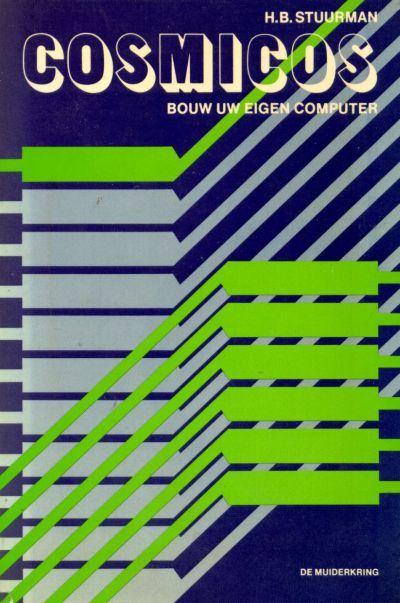 Cosmicos book part 1
Cosmicos book part 2
Cosmicos book part 3
Cosmicos book part 4
This is a dutch book!
(thanks to Rob Uiterlinden)
Het boek bevat alle artikelen verschenen in Radio Bulletin, van september 1979 tot en met April 1981.
| | |
| --- | --- |
| | |
| Bob Stuurman, 1984 | First version Cosmicos april 1979 |
My Cosmicos
My Cosmicos was acquired by me in 2008. It was a badly abused and poorly constructed board, and it took a lot of effort to restore it to the original state.
All additions not original were removed, bad soldering repaired, cleaned, damaged components such as the led display replaced, new legends on the buttons added.On the next pictures you see the board as it is now. Still missing is the battery holder, the one on the board was heavily corroded (the careless owner had forgotten to remove leaking batteries).
The Cosmicos shown here has two 4K RAM cards, total of 8K RAM and one 4K EPROM card with the ASCII monitor in a 2716 EPROM.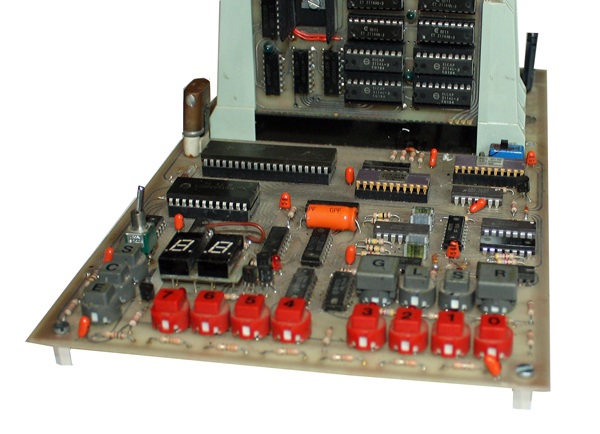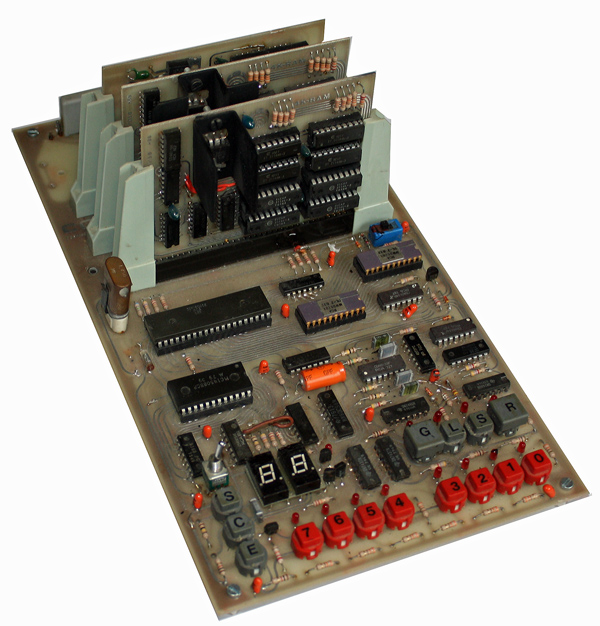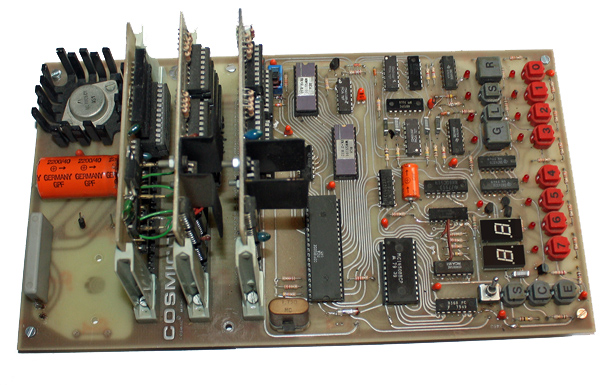 Radio Bulletin artikelen Cosmicos
All Radio Bulletin articles about the Cosmicos as published are listedbelow.
This is the list of scanned articles , since they appeared after the book was published or were
not included in the book. All articles are in dutch!
Publicatie artikelen en boek met toestemming van Uitgever en rechthebbende.
All articles as they appeared in Radio Bulletin, about the 1802.
| | |
| --- | --- |
|  Issue |  Title |
|  September 1979 |  Cosmicos Een eenvoudige microcomputer voor zelfbouw, deel 1 |
|  Oktober 1979 |  Cosmicos Een eenvoudige microcomputer voor zelfbouw, deel 2 |
|  November 1979 |  Cosmicos Een eenvoudige microcomputer voor zelfbouw, deel 3 |
|  December 1979 |  Cosmicos Een eenvoudige microcomputer voor zelfbouw, deel 4 |
|  Februari 1980 |  Cosmicos Een eenvoudige microcomputer voor zelfbouw, deel 5 |
|  Maart 1980 |  Cosmicos Een eenvoudige microcomputer voor zelfbouw, deel 6 |
|  April 1980 |  Werken met de Cosmicos, deel 1 |
|  Mei 1980 |  Werken met de Cosmicos, deel 2 |
|  Juni 1980 |  Werken met de Cosmicos, deel 3 |
|  Juli 1980 |  Werken met de Cosmicos, deel 4 |
|  Augustus 1980 |  Werken met de Cosmicos, deel 5 |
|  September 1980 |  Werken met de Cosmicos, deel 6 |
|  Oktober 1980 |  Informatie voor 1802 gebruikers |
|  November 1980 |  Werken met de Cosmicos, deel 7 |
|  December 1980 |  Werken met de Cosmicos, deel 8 |
|  Januari 1981 |  Werken met de Cosmicos, deel 9 |
|  Februari 1981 |  Werken met de Cosmicos, deel 10 |
|  Maart 1981 |  1802-EPROM- programmeerprogramma |
|  April 1981 |  Werken met de Cosmicos, deel 11 |
|  Juni 1981 |  Videokaart voor de 1802-systemen, deel 1 |
|  Juli 1981 |  Videokaart voor de 1802-systemen, deel 2 |
|  Juli 1981 |  Rf-modulator voor Cosmicos' grafisch display |
|  Oktober 1981 |  ASCII-monitor. Universeel voor 1802 |
|  November 1981 |  ASCII-monitor. Universeel voor 1802. Deel 2 |
|  December 1981 |  ASCII-monitor. Universeel voor 1802. Deel 3 |
|  Januari 1982 |  ASCII-monitor. Universeel voor 1802. Deel 4 |
|  Maart 1982 |  48K dynamische RAM-kaart universeel voor 1802 |
|  April 1982 |  48K dynamische RAM-kaart universeel voor 1802. Deel 2 |
|  April 1982 |  Cosmicos lichtkrant |
|  Mei 1982 |  48K dynamische RAM-kaart universeel voor 1802. Deel 3 |
|  Augustus 1982 |  PPI universeel voor 1802 |
|  Oktober 1982 |  PPI universeel voor 1802. Deel 2 |
|  Februari 1983 |  1802-journaal |
|  Juni 1983 |  Floppy-disk voor het 1802 systeem |
|  Juli 1983 |  Floppy-disk voor het 1802 systeem. Deel 2 |
|  Februari 1984 |  Floppy-disk voor het 1802 systeem. Deel 3 |
|  Maart 1984 |  Floppy-disk voor het 1802 systeem. Deel 4 |