Application Notes, datasheets, other articles
Rockwell AIM 65 MEMORY CARTRIDGE

(Part No. A65-905-08) with 8K CMOS RAM (4x2K) and four sockets for 4 x 4K PROM/ROM for use with the Rockwell packaged 500 Series of desktop microcomputers or any AIM 65 board-level microcomputer with Buffer Module. Document No. 29000D98
Many applications of AIM 65 microcomputers, particularly in test equipment, instrumentation, monitors, analyzers or controllers, require that the resident application software or fixed parametric data be changed periodically. This may occur because the item under test or being controlled has been changed, or parameter values have been revised. For OEM installations, the change may be required to customize the system (or different customers).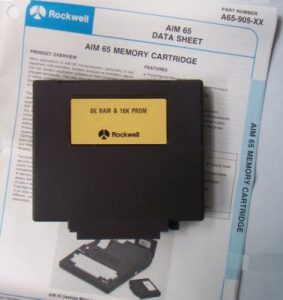 The AIM 65 Memory Cartridge system is an economical and convenient method for expanding the memory of an AIM 65 microcomputer. The cartridges are designed for use with the Rockwell packaged 500 Series of desktop microcomputers, but may also be used with any AIM 65 board-level microcomputer. This Memory Cartridge is ideal to be used for swapping to the Buffer Module needed to connect to the AIM 65 Master Module. This Memory Cartridge has 8K CMOS RAM and the PROM/ROM part is unpopulated for complete user flexibility.
Rugged injection molded plastic covers the Memory Cartridge complementing the AIM 65 Enclosure in color, texture and sturdiness. A Memory Cartridge plugs vertically into the Buffer Module which is needed immediately behind the microcomputer enclosure to require a minimum of area in desktop applications. A recessed label area on the Memory Cartridge cover allows configuration information to be neatly added in an area visible to the operator (see picture). Address decoding required by the different cartridges is accomplished automatically without user intervention.
Features:
• Preconfigured Memory Cartridge Combination RAM and PROM/ROM sockets
• Convenient Memory Cartridge plug-in installation to Buffer Module (needed)
• Use with any AIM 65 500 Series Desktop Microcomputer
• Compatible with A65-006 enclosure and power supply
• Cartridges are fully assembled and tested
Bubble Memory Products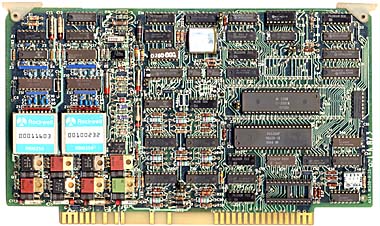 Replace Printer head