The EMUF MC Sonderheft 2 brought designs of many small computers.
One of these is the EMUF232 V24. 32KB RAM, 6511 ACIA 2×6522, edge connectors
Thanks to Eduardo de Mier for scans and other files!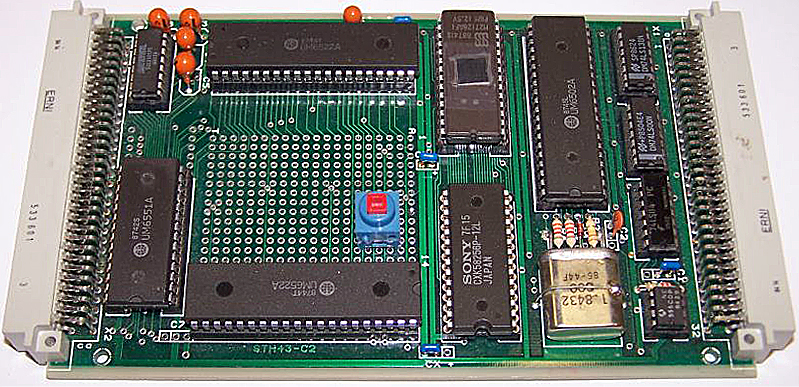 Note from Forum 64:
– Der Bug im Schaltplan ist auch auf diesem Scan zu finden. Der RESET (Ausgang Inverter nach NE555) sollte mit RESET an der CPU verbunden werden und nicht mit PHI0.
– Bei der Kreuzung der Address- und Datenbusse ist aus ein Bug.
MONITOR PROGRAMM 6502/V24 EMUF
Das Monitorprogramm erlaubt in Verbindung mit einem Microcontroller Platinen die Eingabe von Maschinenprogrammen und Ihrer Ausführung. Die Eingabe muß über eine V24 Schnittstelle erfolgen, entweder über einen Rechner, z. B. IBM, PC oder Atari ST (mit unserem Te rminalemulationsprogrammen PC-TERM oder ST-TERM geladen) oder ein Terminal.
Ferner stellt das mitgelieferte Sourcelisting viele nützliche Unterprogramme zur Verfügung, damit das "Rad" nicht noch öfter erfunden werden muß. Für Programmierneulinge hat es den unschätzbaren Wert eine Basis zu haben, die sicher funktioniert und auf der man aufbauen kann.
Folgende Befehle stehen zur Verfügung:
> D – Hex Dump eines Speicherbereichs
> G – Start eines Programms
> H – Setzt Halt
> R – Disassembliert
> V – Dateneingabe in Assemblercode
> X – Löscht Halt
> A – Einschreiben eines Zeichens in das RAM
Listing of the Monitor program V3
ROM of the Monitor V3
ROM of the Monitor V4