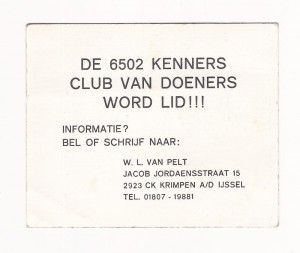 In 1977 a Dutch group of enthousiasts, with professional background in electronics, mainframe software, general interest in microprocessors and students started a community around the then new KIM-1. Other 6502 based SBC's like the SYM-1 and AIM-65 were also targeted, but in the beginning it was mostly a KIM-1 club, hence the name KIM User Club.
After 1980 a large grow in members, at least 500 active in 1984, due to the availability in diy format  of a KIM-1 clone, the Junior of Elektuur/Elektor.
The club developed a variation of the Octopus/EC65 bus based system of Elektuur, called DOS65. With its inhouse developed floppy controller and the DOS65 operating system, it was a capable system. Several hundreds must have been build, I own several.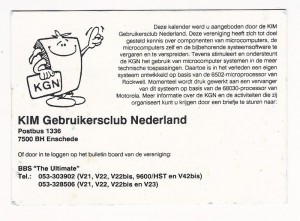 The 'Stichting'  (Foundation, organization without profit) called "KIM Gebruikers Club", was founded January 1977 and the publications were published until 1995. I was chief editor of the magazine from 1978 to 1982, issues 11 to 20, and member of the board until 1983.
Here you find the archive of the club, from the magazine issue 1 called KIM kenner (kenner is dutch for 'person who has knowledge') via 6502 Kenner to the last called uP Kenner.