EMUF stands for Einplatinen-Mikrocomputer für Universelle Festprogrammierung.
First published in the german magazine MC Die Mikrocomputer-zeitschrift nr 2 1981, and later published in a special called 'Das EMUF sonderheft'. Also a book was written called 'Mit Computern steuern'.
In this magazine and books a tiny 6504 CPU based system is described, consisting of a minimal 602 system with a 6504, a 6532 and an EPROM
In 1984 an update to the EMUF-6502 was published, a second 6532 to double the I/O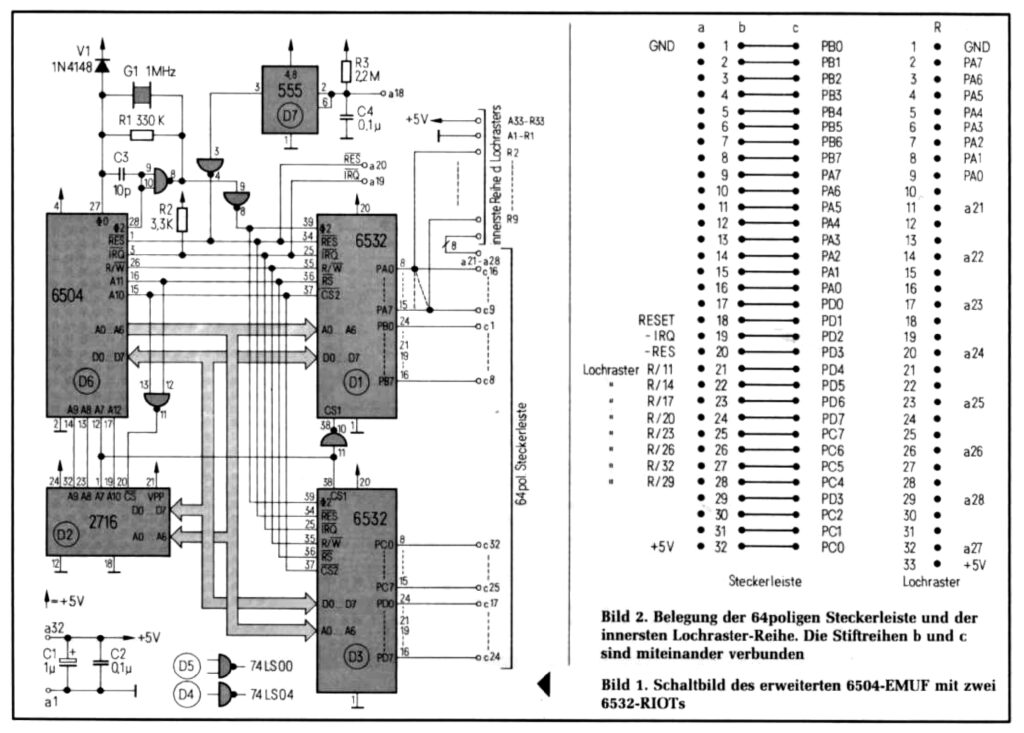 Around this system a number of practical I/O circuits and programs are described.
Scanned magazine articles 1981 1986, contents see below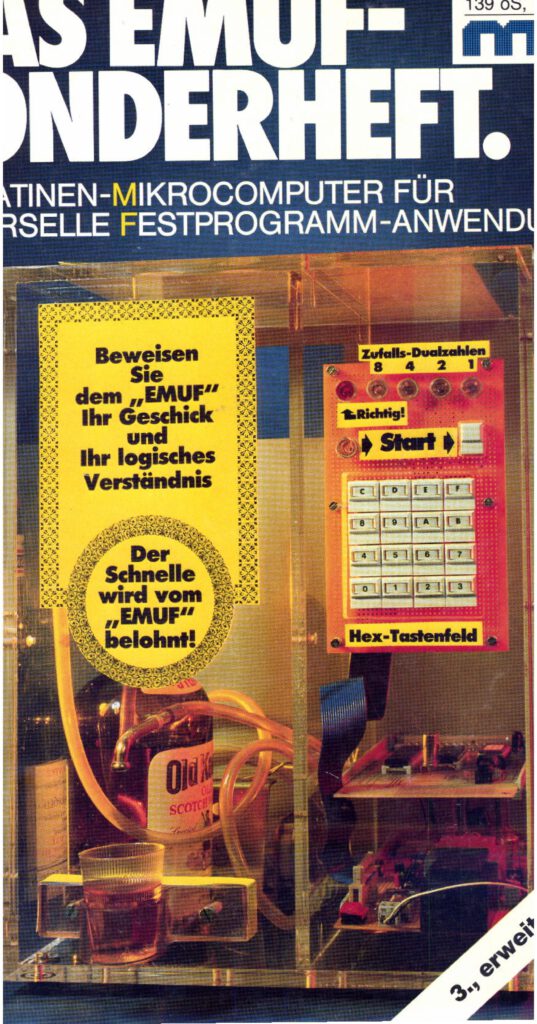 Scanned EMUF-Sonderheft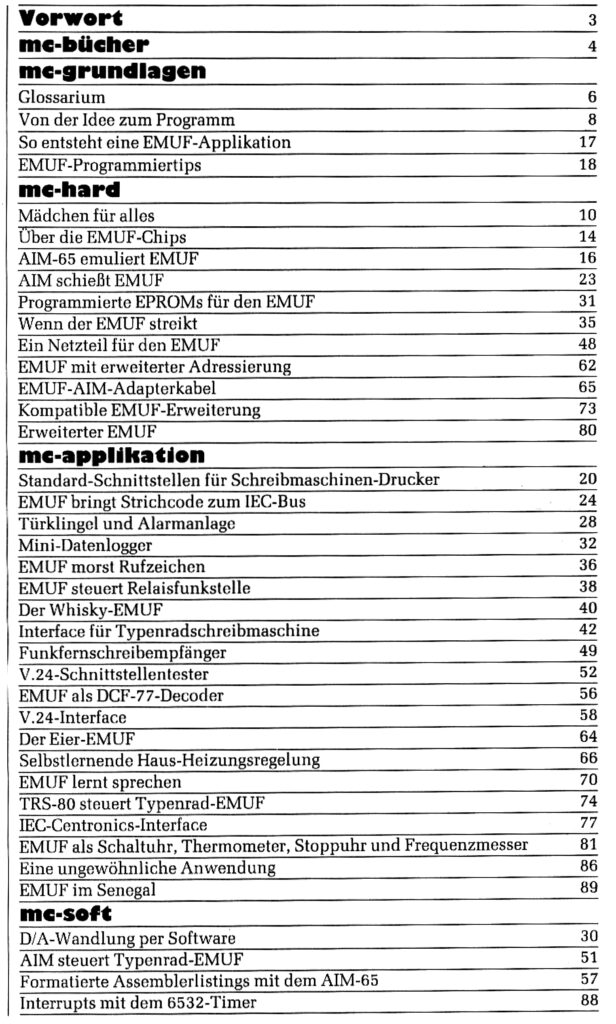 Thanks to Dick Blok for the scan of the Sonderheft.
Das EMUF-Sonderheft 2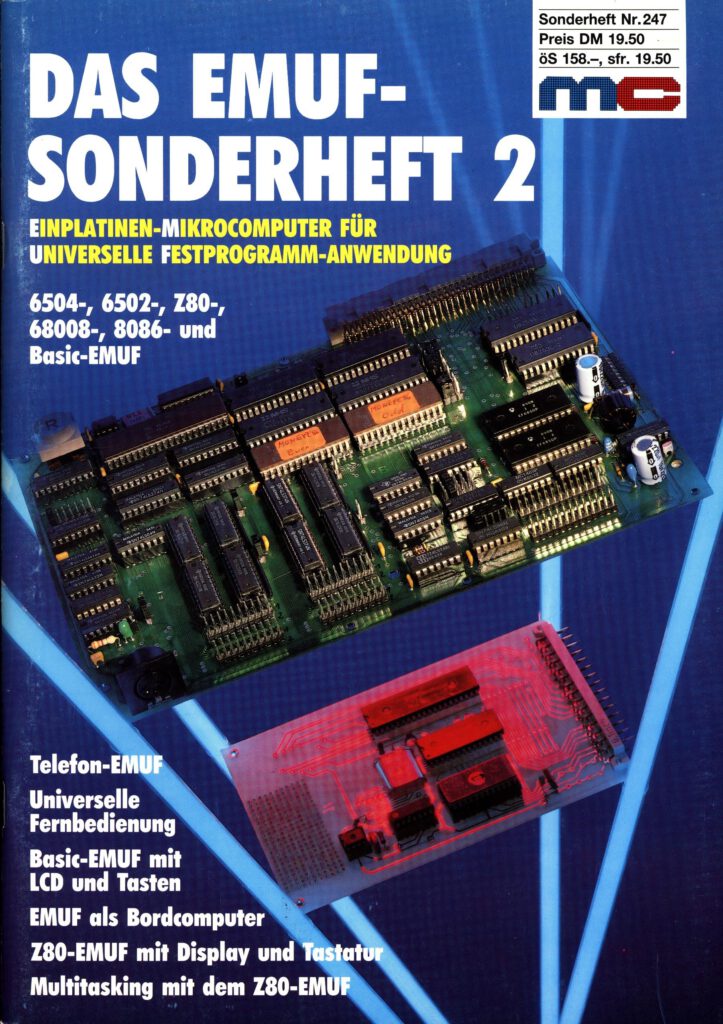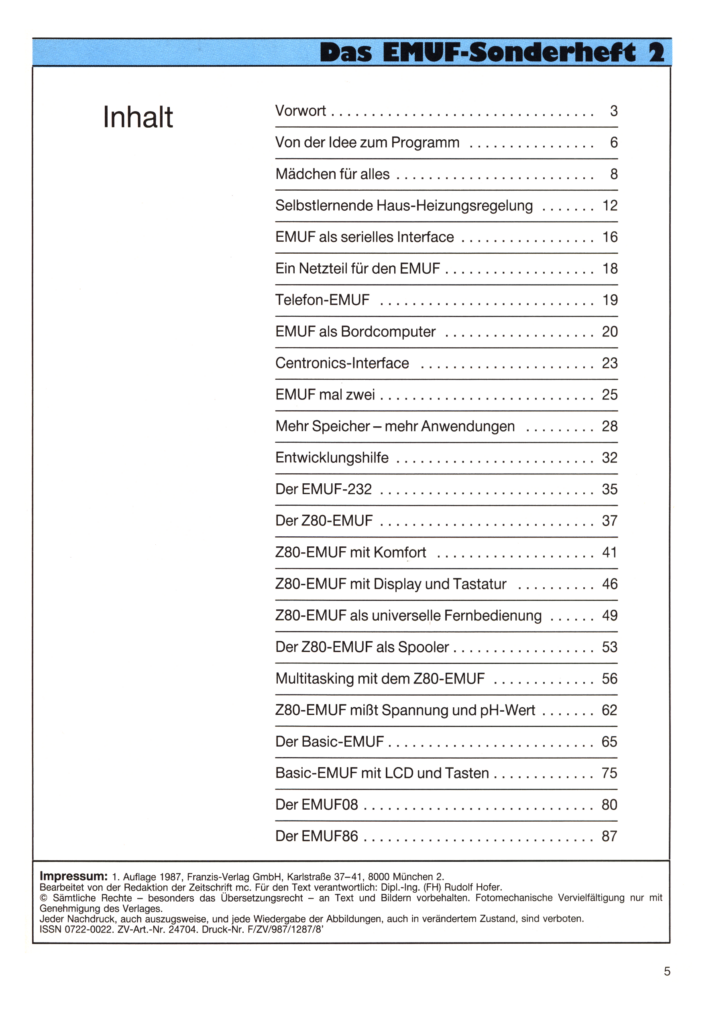 Thanks to Mathias Ohlerich for the scan of the Sonderheft 2
Contents of Scans from the MC magazine 1981 – 1986 (incomplete, see the MC page)
MC Die Mikrocomputer-Zeitschrift
Juli/August 1981
Madchen fur alles
EMUF Programmiertips
So entsteht eine EMUF-Applikation
1981 3
EMUF bringt Strichcode zum IEC-Bus
1981 4
V24 Interface
1982 6
Kompatible EMUF-Erweiterung
1982 10
EMUF als Schaltuhr, Thermometer und Frequenzmesser
1982 11
Erweiterter EMUF
1983 1
IEC-Centronics Interface
1983 3
EMUF lernt sprechen
1983 4
EMUF in Senegal
1985 3
Der Eier-EMUF
1983 11
EMUF als Morse-Tutor
1984 1
EMUF mal Zwei
CBM und EMUF in der Ausbildung
1984 6
Der Pillen-EMUF
1986 2
EMUF als Bordcomputer
Centronics Interface
1986 6
Es musizieren die EMUFs – CP/M dirigiert
Mit Computern Steuern
Download here